What Is the Effect of Datacenter Hardware on the Climate?
The datacenter sector is expanding like never before.
Up to 1750 kg of CO2 emissions are generated during the mining, manufacturing, and transport of a single server, which equals approximately the amount of CO2 generated by one passenger in economy class on a flight from London to Hong Kong.
Meanwhile, some hyperscale datacenters replace as many as 400,000 servers a year.
How can we sustain the growth without compromising the climate?
In early April 2022, the Intergovernmental Panel on Climate Change published a report stating that global greenhouse gas emissions have to culminate by 2025 so that limiting global warming to 1.5 degrees Celsius, as set by the Paris Agreement, is achievable. Adopting immediate and effective measures to reduce greenhouse gas emissions is vital to climate change mitigation.
Although sustainability experts and climate change activists have traditionally focused on decreasing the emissions in the automotive, energy and aviation industries, it is equally important to look for more sustainable solutions within the ICT sector. One reason for this is the rapid expansion of the ICT industry, particularly the sharp increase in the number of data centers worldwide.
In this blog article, we'll briefly discuss the recent expansion of the data center sector and the complexities of sustainability within this industry, dig deeper into data center hardware emissions and explain what it means for the climate if you decide to prolong the life cycle of your existing equipment instead of buying new.
Sustainability – the Latest Trend Within the Rapidly Expanding Data Center Sector
The reason why it is important to talk about sustainability within the ICT sector is the rapid expansion of this industry in the past years, especially the steep rise in the number of data centers. According to IDC, approximately 500,000 data centers of all shapes and sizes existed worldwide in 2012. This number jumped to more than 8 million by 2019. Despite a recent brief decline, the future will most likely bring a further increase in this number. As the internet will soon become a standard in locations and societies where it is now a relatively new phenomenon, the dependence on data centers is expected to increase. The rise in 5G networks, IoT devices, and blockchain-based commodities such as cryptocurrencies or NFTs will intensify this problem further.
This expansion becomes problematic because data centers have the fastest-growing carbon footprint among all the areas in the ICT sector. The millions of data centers that already exist are using electricity and metric tons of hardware, generating a vast amount of CO2. That is why sustainability and climate neutrality are becoming hot topics within the ICT industry. Nevertheless, the transition to sustainable and climate-neutral data centers is complex.
IT managers should pay close attention to a wide variety of sustainability issues when making their data centers green. These issues relate to, for example, energy production, data center infrastructure management, consolidation or even cooling systems. To this day, the data centers' high energy usage has received the most attention. However, there is not much awareness about the immense amount of CO2 generated during the manufacturing phase of data center hardware parts. The sole attention on energy efficiency is surprising because, based on the white paper written by Lars Olesen for Nordic Computer, the total amount of CO2 generated during the manufacturing phase is comparable to the amount of CO2 emitted in the period during which hardware is in operation.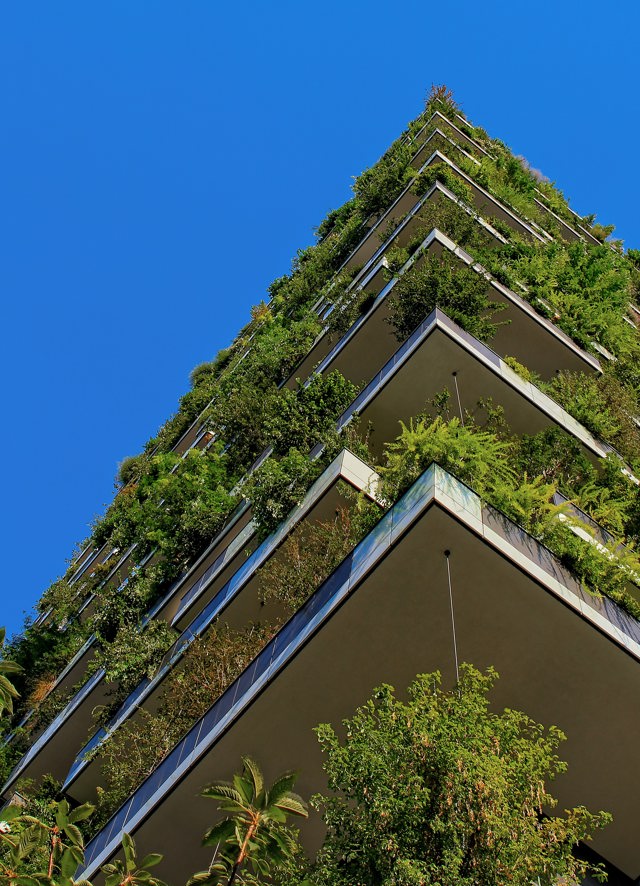 The CO2 Emissions of Data Center Hardware
The quantity of CO2 emissions produced during the manufacturing of data center hardware is often underestimated. According to Nordic Computer, the hardware refresh of a data center with two racks with 50 three-year-old hardware units could generate as much as 60 metric tons of CO2e during the manufacturing phase. Dell Technologies offered a similar scenario. The emissions generated during the mining, manufacturing, and transport of one standard tower server total roughly 1200 kg CO2e. The emissions increase to 1300 kg CO2e for the standard rack server and 1750 kg CO2e for the standard blade server.
According to Sustainable Digital Infrastructure Alliance, some hyperscale data centers deploy as many as 400,000 servers a year, whereas they have annual refresh cycles. That means, each year, they throw away 400,000 high-quality and well-functioning servers, which have never been used to full capacity.
When we consider the large amount of CO2 produced only during hardware manufacturing and the high number of functioning devices pointlessly thrown away, there is no way the ICT sector can continue in constant growth without initiating the transition to sustainability. The must-do step in this transition is to start prolonging the hardware's life cycle.
What It Means If You Prolong the Life Cycle of Your Existing Equipment
Luckily, there are circular solutions for all IT managers and data center operators willing to make their data centers more sustainable. In fact, environmental researchers and sustainability experts have been pushing the data center sector to adopt more circular solutions for years. The basis of circular solutions is to buy fewer new hardware parts. This can be done through three fundamental principles of the circular economy – repair, reuse, and recycle, which in the data center sector translates to third-party maintenance, procurement of refurbished hardware and recycling of hardware parts that can no longer be used.
Third Party Maintenance
Third party maintenance (TPM) is the first step to reducing CO2 emissions. As original equipment manufacturers (OEMs) offer warranty support sometimes only up to 3 years, this support can be extended through third-party maintenance providers. TPM can help you prolong the use of data center hardware when it is at the end of service life (EOSL). Data center hardware can function effectively for 10 or even 15 years; therefore, buying new equipment when the existing one is at the EOSL has unnecessary environmental and financial costs.
The OEMs will always push you to buy new equipment because planned obsolescence is what earns them money, but in fact, purchasing new makes neither environmental nor financial sense. Through TPM, it is possible to avoid the carbon footprint of one whole generation of hardware equipment, including all the emissions generated during mining, refining, and transporting finite materials and subsequent production and distribution of the new hardware equipment. When choosing a life extension rather than a hardware refresh of a data center with two racks with 50 three-year-old hardware units, the total amount of CO2 saved can be as much as 50 metric tons, which roughly equal the amount of CO2 generated for a newly built four-bedroom detached house. Overall costs saved when choosing TPM vary, but with Nordic Computer, you can save up to 70% compared to OEMs.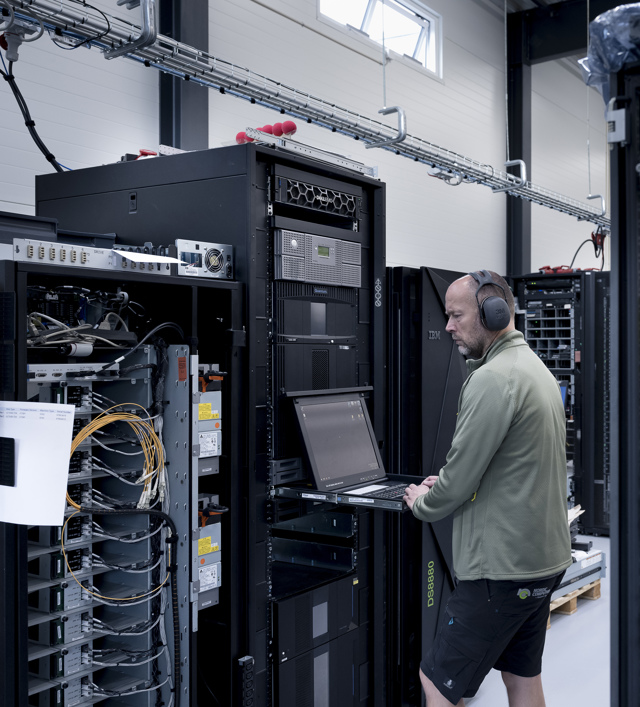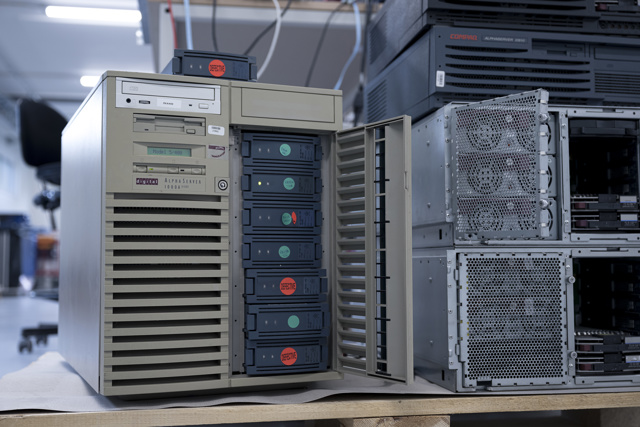 Refurbished Data Center Hardware
Another way of reducing CO2 emissions is to reuse the hardware. By purchasing refurbished data center hardware, you help prolong the life cycle of hardware that has not been used to its maximum capacity. This way, you can postpone investment into new equipment and reduce your overall carbon footprint. Because most data center providers get rid of their hardware equipment when it still functions well, the buyers of refurbished equipment can get the high-end equipment used only to 15 or 20 % of its full capacity for a fraction of the price of new equipment. Thus, buying and reusing refurbished equipment gives you a sustainable advantage and makes economic sense. Nordic Computer offers refurbished data center hardware from different vendors. You can also visit our webshop to see what we have currently in stock.
Hardware Recycling
The hardware that has been utilized to its maximum capacity and can no longer be used or repaired should be recycled. The secondary raw materials can be extracted from the non-functioning hardware during the process of recycling. These materials can be sold and further used to manufacture new products. As the materials extracted from hardware can be used instead of mining new materials, this process saves not only on CO2 emissions generated during the mining process but also protects the finite materials and non-renewable resources. Nordic Computer always strives to recycle hardware that can no longer be used.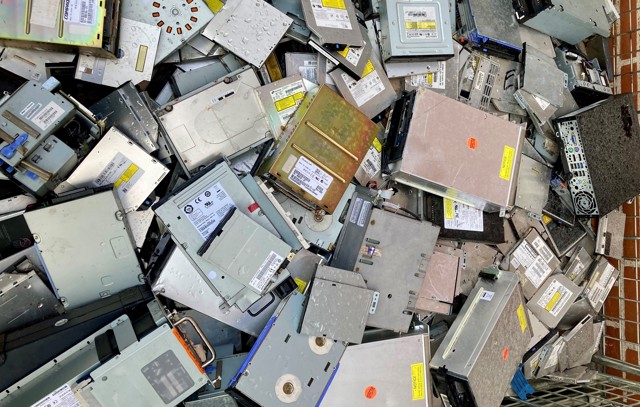 Choosing to extend the life cycle of the existing equipment (through TPM, buying refurbished or recycling) can help you save substantially on your carbon footprint and IT budget. Although the whole system is designed to support the constant buying of new equipment, continuing to do so can have dangerous consequences for our planet and society. Thanks to innovative people within sustainability, it is today possible to build IT infrastructure with low environmental impact. The transition to sustainability is also possible because almost all types of hardware equipment can be effectively refurbished and used again.
Sustainability is definitively the latest trend within the ICT sector. Presumably, it is the trend that is here to stay. It is only a matter of time until companies, which do not act responsibly, will be outpaced. Sustainability is about preserving current resources for future generations, and thus future generations that will experience the harmful effects of the climate crisis will no longer deal with irresponsible companies.
If you have further questions about sustainability within the data center sector, our TPM or refurbished data center hardware, do not hesitate and emails us at sales@nordiccomputer.com or contact us by filling out the contact form below.
Sources:
DELL Technologies. PRODUCT CARBON FOOTPRINTS: Track our progress: https://www.dell.com/en-us/dt/corporate/social-impact/advancing-sustainability/sustainable-products-and-services/product-carbon-footprints.htm#tab0=0
Donnelly, C. (2022, March 9). Datacentres and climate change: Operators accused of being all talk and no action on sustainability. ComputerWeekly.com: https://www.computerweekly.com/feature/Datacentres-and-climate-change-Operators-accused-of-being-all-talk-and-no-action-on-sustainability
IPCC. Working Group III Mitigation of Climate Change: https://www.ipcc.ch/working-group/wg3/
Malev, M. (2021, February 24). The climate is overheating – time for green data centers!. DM EXCO: https://dmexco.com/stories/green-data-centers/
McNerney, M. (2019, April 19). The Data Center Dilemma: Is Our Data Destroying the Environment?. DataCenter Knowledge: https://www.datacenterknowledge.com/industry-perspectives/data-center-dilemma-our-data-destroying-environment
Olesen, L. (n.d.). CO2 Reduce: Reducing the Climate Impact of Data Center Hardware. Nordic Computer: https://nordiccomputer.com/media/wkhhum3k/white-paper-co2-reduce-uk-1.pdf
Trueman, Ch. (2019, August 9). Why data centres are the new frontier in the fight against climate change. Computer World: https://www.computerworld.com/article/3431148/why-data-centres-are-the-new-frontier-in-the-fight-against-climate-change.html
Image Sources:
Photo by Ricardo Gomez Angel on Unsplash
Photo by Agustín Lautaro on Unsplash